Acquiring Sourcely, an AI-powered SaaS for Finding Academic Sources
TL;DR #
I acquired a micro-SaaS called Sourcely together with Dev Shah at the end of May 2023 that allows students and academics to search, summarize, and format sources for essays and papers. Thousands of people have used and praised the tool (including my friends), which has saved them countless hours finding academic references. Two months have passed since Sourcely was acquired, and this post reflects on how it happened, why I did it, what has happened since then, and what is ahead.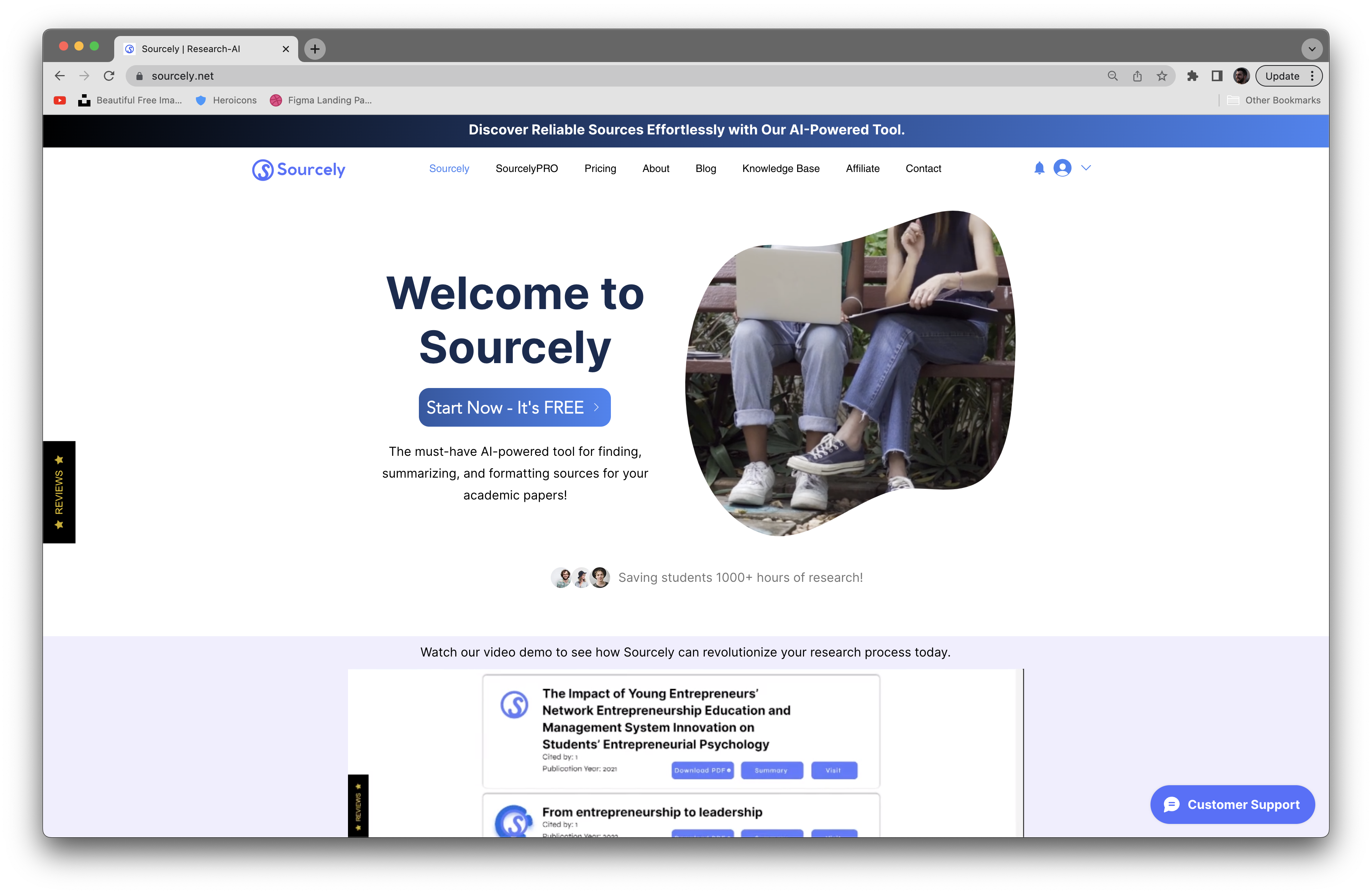 Sourcely landing page as of July 2023
Backstory #
The last year or so, I've been developing, playing with, and selling small micro-SaaS (software as a service) applications. As an additional income stream, it is something exciting I do on the side of my full-time job. I began with the thrill of developing a small software program, learning how to market it, and eventually selling it.
Since I was developing SaaS myself, I didn't think about acquiring another. While visiting Ryan Kulp's ranch, Ryan explained that it is usually easier to grow an existing website with a good product-market fit than to start from scratch.
I have been looking at the listings on SaaS marketplaces like Acquire and Microns but nothing stood out to me. Either the listing was too expensive, the deal didn't work out beyond initial talk with the owner, it was in the niche that I didn't care much about, or simply wasn't for me. Except one day, I came up of the listing that offered academic source finder for a reasonable multiple on Microns.
Buying Sourcely #
Initial Contacts and Meeting Dev #
I did not have a way to contact the buyers, but Dev Shah did a short tweet-storm about the business. It thought that he may know the buyers, so I contacted him anyway to see if he could help. In response, he immediately came up with an interesting proposition, that we both acquire Sourcely.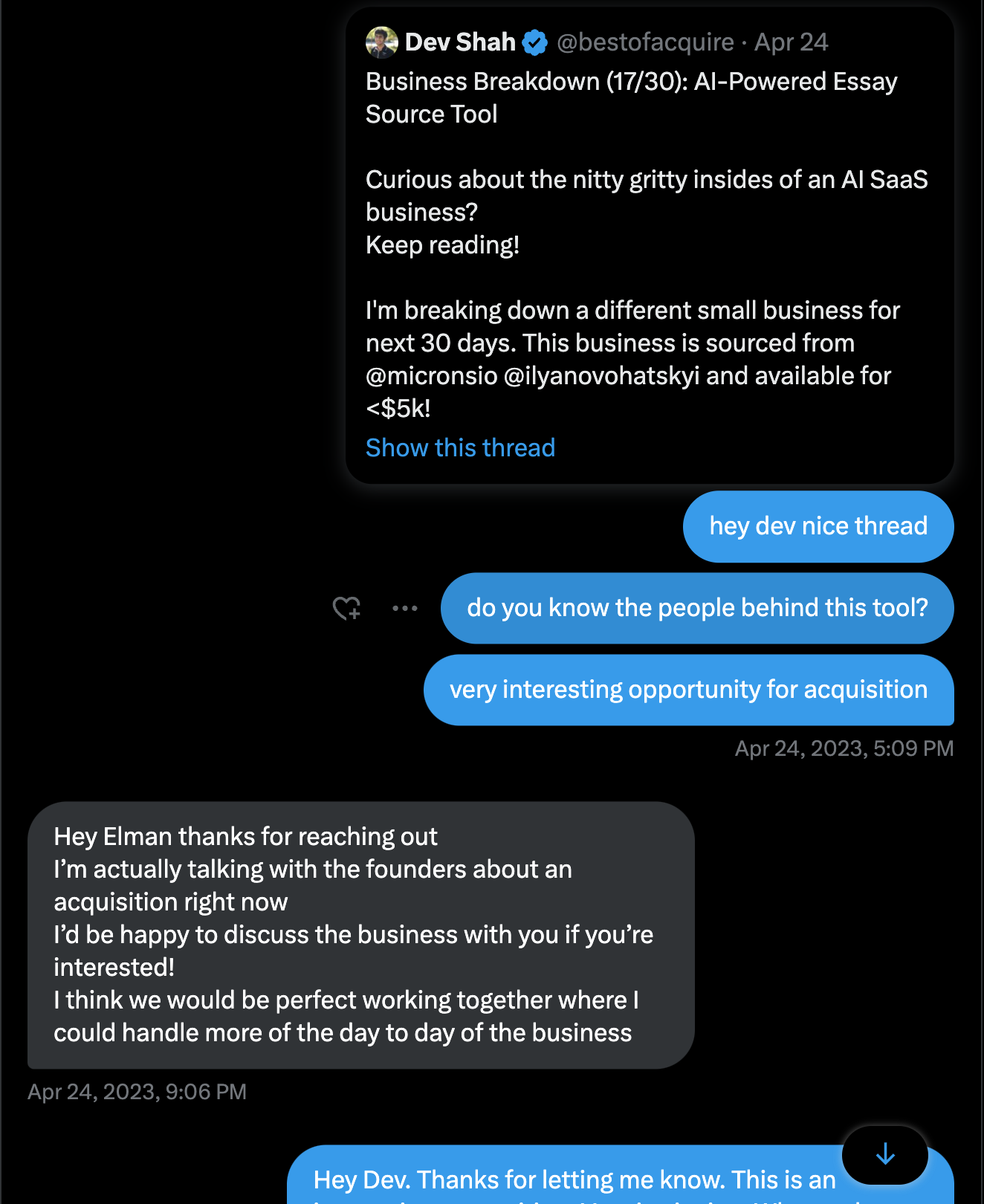 Initial messages between me and Dev Shah
Dev would focus on business and marketing, while I would focus on tech while also taking part in marketing activities. We keep working on our own stuff (Dev does school/internships and I do AI work full time). Furthermore, since Dev is currently in college and I have completed an entire education process including a doctorate in machine learning, we can distribute to his classmates and make the deal more attractive.
Process of Acquisition – Missed Initially, Nailed Ultimately #
At the end of April, we held an initial round of talks with the sellers. It turned out that Sourcely's creators were bright British students (in dentistry or pharmacy if memory serves me well) who built the website to solve their own problem of finding sources for their essays. At the time, the founder was trying to sell the web app for 7K (1.2X the yearly multiple), but it was still very bear bones.
The landing page was very plain, since the website did not have a lot of features when we acquired it, other than searching and displaying sources. Despite that, creators managed to bring quite a few paid monthly subscribers, which indicates that Sourcely had the product market fit.
The deal seemed off when other potential buyers stepped up to acquire Sourcely. Me and Dev agreed to touch base near the end of the summer to prototype other student AI tools. All of a sudden, the original deal of selling Sourcely to other buyers fell through, and the original creators of Sourcely contacted Dev to see if a sale could be done.

Message from creators that Sourcely was on sale again after acquisition with other buyers fell through
We closed the sale of Sourcely for 4k (0.6 ARR at that time) at the end of May 🎉. The website was also in a better state, with a cleaner landing page, and more features like source summarization. After that the real work began.
What happened to Sourcely since the Acquisition Closed? #
A lot of things. From revamping the landing page to stepping up the game on marketing tasks such as SEO and influencer outreach.
We revamped the landing page
New landing page looks sleeker, has a short demo video, a free version without premium features, a clear feature proposition and testimonials. It's already converting more customers. Check it out here Sourcely. I'm happy with the look.
We improved the backend
Several changes were made on the tool's backend, where it does its magic. The AI algorithm for looking up sources has been improved, and the factuality of summarization of sources has been increased. More highly requested features such as multilingual support are in the works.
We are focusing more on distribution and marketing
We are working on a few things that will ultimately lead to a greater distribution, more visitations, and ultimately a higher number of paid users. As part of SEO, Dev has been adding more blogs (blog1, blog2, other blog posts) and backlinks to the website. We have been trying out several TikToks (1, 2, 3), hoping we'll soon come up with a winning formula for attracting students there.
It seems like LinkedIn is another underused area of growth where many students hang out. Positive testimonials with reshares seem like an effective growth strategy. Furthermore, we've been reaching out to academics or technical people who have a lot of followers on social media, and we recently got lucky when one of the tweets about Sourcely went viral and got 220K views. Thanks a lot Mushtaq!
One of the limitations of databases like Google Scholar is that they let you search using only keywords.

But what if you want to search using whole paragraphs or your notes?

Sourcely is an AI-powered app that will let you do that.

Here's how to use it: pic.twitter.com/2udq8Pvd4x

— Mushtaq Bilal, PhD (@MushtaqBilalPhD) July 21, 2023
We are not finished with marketing, and more work is underway. Summer is supposed to be a slower month, as many students are on vacation or interning, so expect a lot more engagement when school starts up again. Despite that, the engagement and sales have increased (knock on wood), and I hope that they continue moving up 🤞!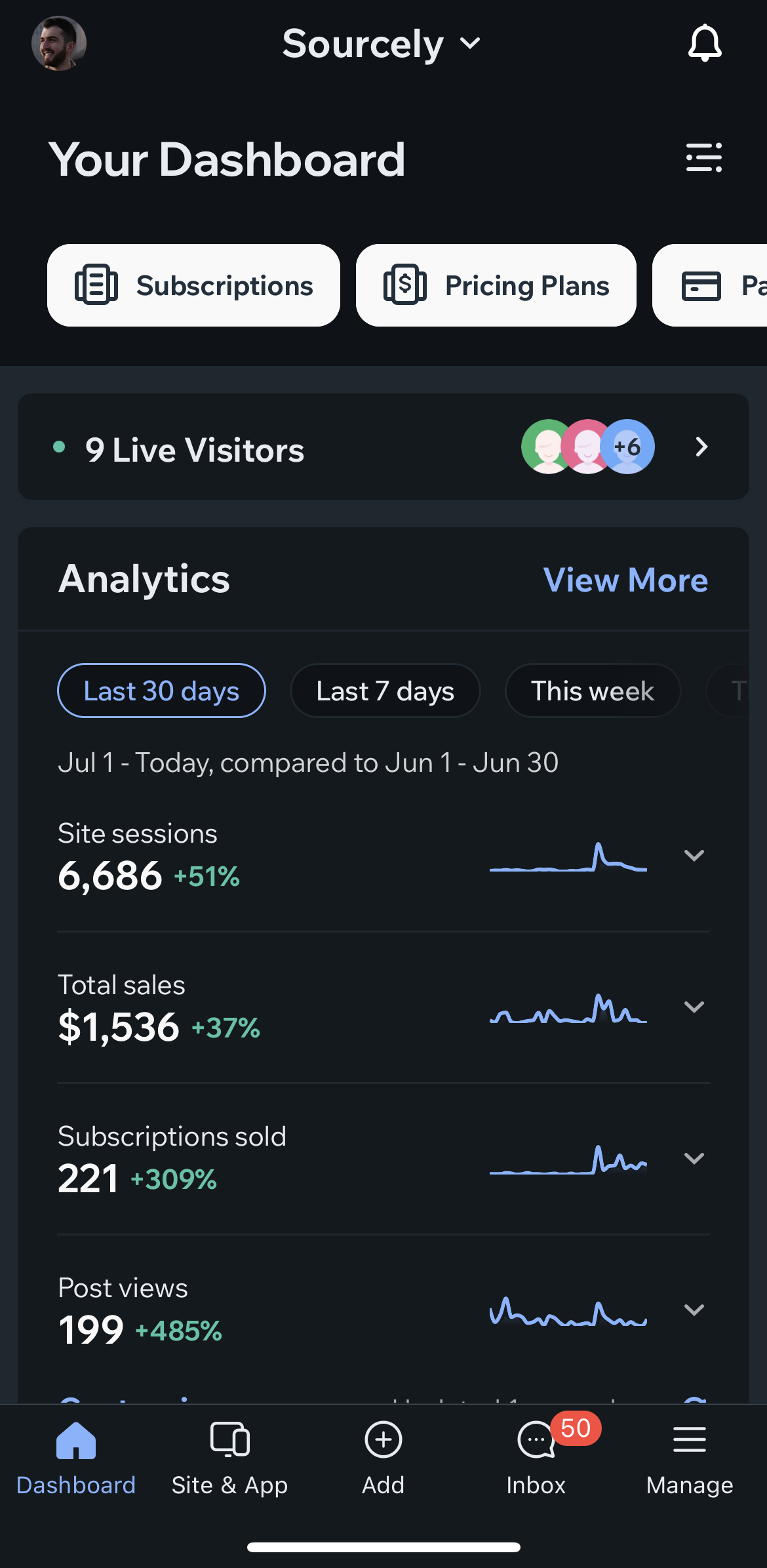 Sourcely's July Visit and Sales Numbers. This is just a start, and I hope that these numbers continue increasing!
What is next for Sourcely? #
I want to reflect on the last few months since I learned about Sourcely. The process of acquiring SaaS is somewhat random, and you have to be open to possibilities and possibilities. Partnering up with like minded people who complement (thank you Dev!), to get fresh ideas, to accomplish more work, and to move forward together is a blessing. More work is under way, and I am excited about it.
Whats is next? We are working on improving and distributing Sourcely, and I am really excited about it. Also, many students have been pasting their entire essays into Customer Service chats, hoping they could improve them. Seeing this, we realized we could leverage our current Sourcely customers to develop an AI-powered student writing assistant app. Although I know the market is competitive, I believe we can provide something that other web apps cannot. I think that we will also expand into other student AI offerings over the next year.
My ultimate goal is to see students being satisfied with our services, saving a great deal of time. From the business perspective, I would like to see us reach 10K MRR for Sourcely, and eventually reach 100K MRR for the student AI writing assistant app (the market is bigger there). Looking forward to updating myself in the coming months and years!